Ready For Some Four Hands Massage Fun?
Ever heard of a 4 Hands massage before? If you haven't, just had a seriously deprived adulthood. But do not fear, we are here to enrich your mind with the delights of erotic massages. The thing is, 4 Hand massages aren't actually a massage- they are a service which is combined with a particular style of massage. If you haven't already worked it out for yourself, four Hands = 2 masseuses. Now that is one good looking equation if I do say so myself! Paying for the 4 Hands service means that there's twice as many hands and twice as many benefits, but which massage styles are best to team up this next-level experience? Here's out top 5 massages to get alongside the 4 Hands service:
Tantric Massage
If you've hit puberty, you've heard of Tantra. End of. But that doesn't necessarily mean that you know what it is. Tantric massages are derived from the ancient practice of Tantra, which uses sexual stimulation and touch to unlock energies within the body. A Tantric massage is an incredibly slow and very sensual style of erotic massage, and promises to leave every single client feeling totally refreshed and revived. This style includes various techniques from different schools of massage; elements taken from bioenergetics, sexual therapy and yoga. This therapeutic experience forces client's to break down their barriers and banish their negative chakras, awaken the Tantric warrior within them. Both erotic and sensual, Tantric massages are rife with healing properties and are not practiced purely for sexual gain. By selecting this massage alongside the Four Hands service, clients should expect to be projected into a euphoric state of bliss never experienced before.
What is this massage best for?
If you've been starved of romance and pine for the intimate touch of a woman, a Tantric massage should be the massage of your choice.

Nuru Massage
When we think of Nuru, we think of naughty- and here's exactly why. Although Nuru massages do begin with a full body, relaxing, sensual, Swedish massage, the child's play is short lived, and then the real fun begins. Originating in Japan many centuries ago, Nuru is a special kind of gel known for its stringy, slippery texture. Renowned for its slick consistency, expert masseuses began using it to slide, grind and slither all over their clients. This body-to-body experience is notoriously sexy because the masseuse uses the curves of her body, her breasts and buttocks to relieve tension right across the body. This unique and widely practiced massage is powerfully intimate, and combines tenderness and lust for the ultimate passionate experience. Merging a Nuru with the four Hands service is not for the faint heartened- far from it. It is designed for thrill seekers; those who are thirsty for pure ecstasy. If you're looking to have your mind, body and soul completely blown, get a 4 Handed Nuru.
What is this massage best for?
For a wild, raunchy hour of hot and steamy action, there's no other massage that compares.


Prostate
If you're hungry for new sensations and a different kind of pleasure, a Prostate massage might be just what you need. If you're bored of vanilla sex, bog-standard hand-jobs and not-so-mind-blowing, blow jobs, maybe it's time to venture through the back door? Believe it or not, Prostate massages were originally created to treat prostate-related illnesses, and are still recommended by doctors for their undeniable healing properties. However, they're also insanely pleasurable. Over the centuries, men have not only sought out these distinctive massages for their health benefits, but instead, for their orgasms. The male prostate, also known as the male G-spot is a walnut-shaped ball of sensation. It is the central location for intense, toe-curling pleasure in men- fact. Choosing this style alongside the 4 Hands service does not mean that both masseuses will stimulate the prostate at the same time (ouch). It means that whilst one focuses on physical stimulation, the other will focus on alternative erogenous locations across the body. This incredible blend of alternate sensations truly is beyond words.
What is this massage best for?
If you've never explored anal play and you're feeling experimental, paying for a Prostate massage will be the best thing you'll ever do.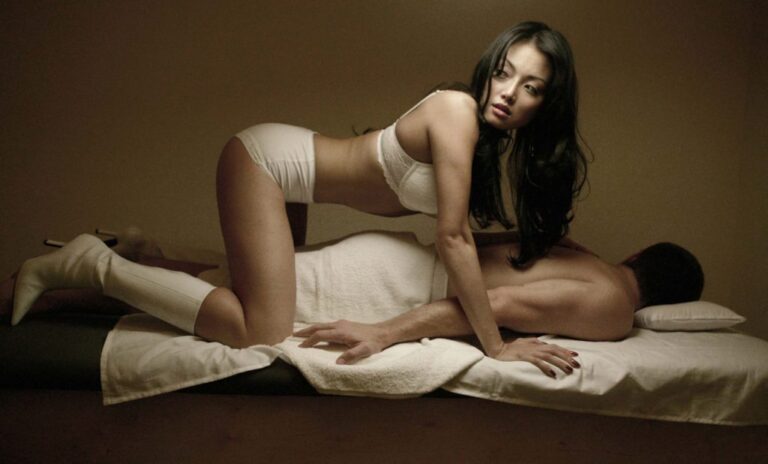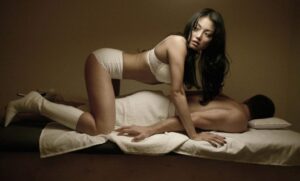 Happy Ending
Although most erotic massages result in a 'happy ending', it's pretty much guaranteed with this style. However, what differentiates Happy Ending massages from other styles is that they're all about worshipping the lingam (penis) – the sacred source of pleasure in Tantric practice. Whilst one masseuse stimulates the lingam, prostate and perineum the other will synchronise her movements on muscles across the body. 4 handed Happy Ending massages are the personification of Tantra because they unite pleasure and relaxation to complement one another. Without one, the other is hindered, which is why they rely on one another in order to create the ultimate pleasure and the ultimate relaxation. Happy Ending massages are designed to give clients a holistic release- physically and mentally. Falling into pure serenity is one of the best ways to cleanse the mind of stress and anxiety, so this massage is fantastic for 'letting go'. Although 2 handed Happy Ending massages are desirable, choosing this massage with two masseuses really is twice as beneficial.
What is this massage best for?
I think the above description says it all- book for the orgasm of dreams.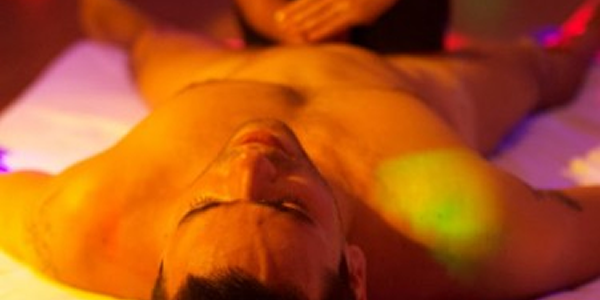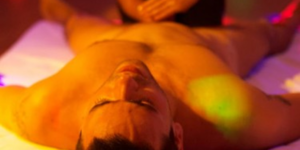 The choice is up to you!
There you have it- our top 4 massages to combine with the famous 4 hands service. All erotic massages are unique and amazing in their own way, but so are you. Although a certain style massage might be right for one person, doesn't mean it is for you. The fantasy of most men, four hands massages are arguably one of the, if not the sexiest massage service on the market- however, be sure to choose a style that'll have the best results for you. Still undecided? Well, there's only one way to go about it. Try them all and discover what you really need, whether it's body-tingling pleasure or hypnotic relaxation. To book your Asian 4 hands massage London today, then book online or call us. And you can have a gorgeous masseuses at your door within the hour.